Every morning, we run The Narrative Machine on the past 24 hours worth of financial media to find the most on-narrative (i.e. interconnected and central) stories in financial media. It's not a list of best articles or articles we think are most interesting … often far from it. But for whatever reason these are articles that are representative of some chord that has been struck in Narrative-world. And whenever we think there's a story behind the narrative connectivity of an article … we write about it. That's The Zeitgeist. Our narrative analysis of the day's financial media in bite-size form.
To receive a free full-text email of The Zeitgeist whenever we publish to the website, please sign up here. You'll get two or three of these emails every week, and your email will not be shared with anyone. Ever.
---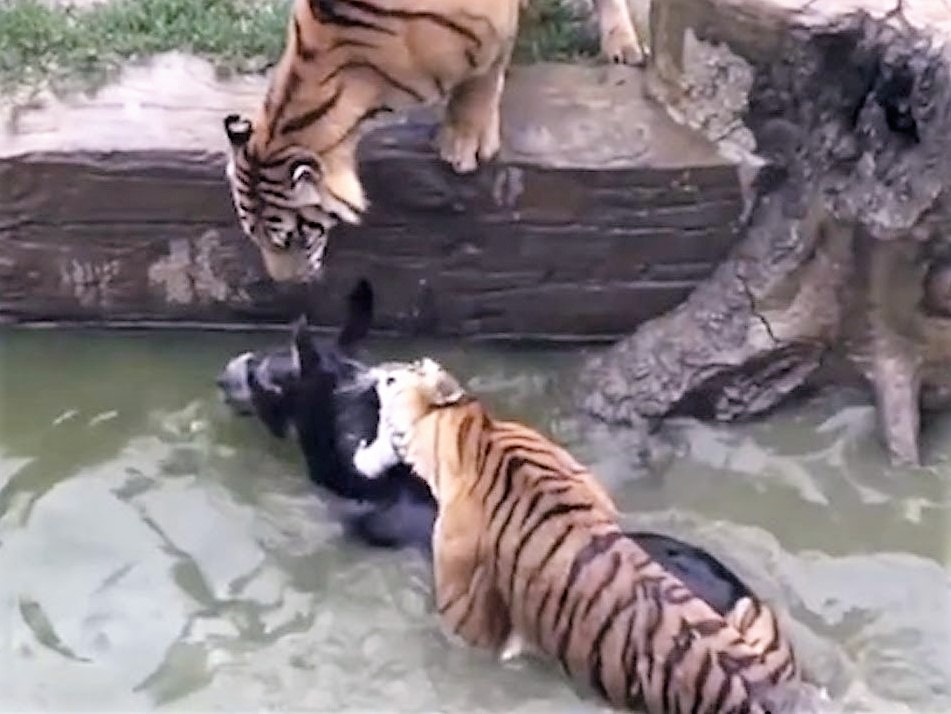 Yes, this is an actual photograph from an actual Chinese zoo, where a live donkey was dropped into a tiger pen.
---
---
"There were no donkeys in Guizhou until an eccentric took one there by boat; but finding no use for it he set it loose in the hills. A tiger who saw this monstrous-looking beast thought it must be divine. It first surveyed the donkey from under cover, then ventured a little nearer, still keeping a respectful distance.

One day the donkey brayed, and the tiger took flight and fled, for fear of being bitten. It was utterly terrified. But it came back for another look, and decided this creature was not so formidable after all. Then, growing used to the braying, it drew nearer, though it still dared not attack. Coming nearer still, it began to take liberties, shoving, jostling, and charging roughly, till the donkey lost its temper and kicked out.

"So that is all it can do!" thought the tiger, greatly pleased.

Then it leaped on the donkey and sank its teeth into it, severing its throat and devouring it before going on its way.

Poor donkey! Its size made it look powerful, and its bray made it sound redoubtable. Had it not shown all it could do, even the fierce tiger might not have dared to attack."

– Liu Zongyuan (773-819 AD)
The fable of the Donkey of Guizhou is as well known in China as any of Aesop's fables are known in the West, even to the point of reenacting the tiger murder scene for the "entertainment" of visitors to certain zoos. It's a fable that every Chinese Politburo member knows just as surely as every American Cabinet member knows the fable of the Ant and the Grasshopper.
My point in relating the fable of the Donkey of Guizhou is not that I believe China is the tiger and the United States is the donkey in our current trade-war-going-to-currency-war.
My point in relating the fable of the Donkey of Guizhou is not that I believe the current United States president is a braying donkey in his "easy to win" trade-war-going-to-currency-war.
I mean … I do, but that's not my point.
My point is that Chinese political leadership believes that they are the tiger and the current United States president is a braying donkey.
This sort of fabular narrative – this sort of Meme – is every bit as strong and "real" as our fabular narratives and memes.
Our political leadership believes they have "leverage" and are playing the stronger hand. Chinese political leadership believes that, too.
That's what makes a Game of Chicken. That's what makes a game that is decided by political will, not by resources or starting positions.
This will get worse before it gets better.
---