---
---
Sen. Sherrod Brown, lead sponsor of The Big Oil Windfall Profits Tax Act
"Big oil companies are making near-record profits, while Ohioans pay more than ever for gas. This bill will crack down on Big Oil price gouging, and guarantee that consumers in Ohio and across the country get money directly back in their pockets if Big Oil continues to rake in record profits."
---
The price of gasoline is up for a lot of reasons. One of the very earliest Epsilon Theory notes – The Unbearable Overdetermination of Oil – is about exactly this: how there are way more explanations for a price change than any actual price change, but that doesn't stop the human animal from coming up with more and more explanations. It's our nature, to tell these just-so stories.
Regardless of the cause, higher gasoline prices are effectively a regressive tax on the American consumer, which means that it's bad for our economic growth and bad for a wide swath of voters households. That means that incumbent politicians would like to a) reduce the price of gasoline, or failing that, b) ascribe blame for the higher gasoline prices onto someone else.
One of the parties to blame for a portion of the higher gasoline prices is Big Oil, as politicians call the integrated energy companies. There are a lot of moving parts in the setting of gasoline prices, and this isn't the place for a discussion of crack spreads and upstream vs. downstream and all the rest, but I think it's fair to say that Big Oil does, in fact, largely determine the price of gasoline at the pump. I also think it's fair to say that Big Oil (and everyone else in the production chain) have expanded their profit margins even as the price of oil has gone up, meaning that the price of gasoline has increased more on a percentage basis than the price of oil has increased on a percentage basis.
How much have expanded margins contributed to the increased price of gasoline? No clue. If I had to take a wild guess I'd say 10%. So if your price for gasoline has gone up from $3.00 to $4.50, my guess would be that 15 cents of that $1.50 increase was due to "greedy corporations" and their "price gouging". Maybe it's twice that, I dunno. I'd be surprised if it were more than that.
Whatever it is, though, it's not nothing, and I can understand an incumbent politician's desire to undo that profit margin expansion. I don't agree with undoing the profit margin expansion, but I understand it. For the record, the only profit margin expansion I believe a just government has any business undoing is in the case of an oligopolistic or monopolistic market structure. I think you could probably make that oligopolistic argument here (and in most modern industries, for that matter), but that is NOT what Sherrod Brown and his Senate co-sponsors are saying here. They are saying that it is wrong, period, to have a profit margin expansion. They are saying that whatever profits Big Oil was enjoying in 2019 are enough profits, and that anything more should be punitively punished with an excess profits tax.
Okay. Again, I completely disagree with the political philosophy that government should declare by fiat a socially acceptable level of profit margins, but I understand that well-meaning people can hold that view and would attempt to legislate that view with an excess profits tax.
But this is not that.
---
The Big Oil Windfall Profits Tax would provide consumers guaranteed relief while maintaining American competitiveness and reducing pressure on inflation by attacking corporate profiteering. Under Brown's and Whitehouse's bill, revenue raised from the windfall profits of big oil companies will be returned to consumers in the form of a quarterly rebate. Americans who received stimulus checks would be eligible for rebates, which would phase out for single filers who earn more than $75,000 in annual income and joint filers who earn more than $150,000. At $120 per barrel of oil, the levy would raise approximately $45 billion per year. At that price, single filers would receive approximately $240 each year and joint filers would receive roughly $360 each year.

Large oil companies that produce or import at least 300,000 barrels of oil per day (or did so in 2019) will owe a per-barrel tax equal to 50 percent of the difference between the current price of a barrel of oil and the pre-pandemic average price per barrel between 2015 and 2019, a period when big oil companies were already earning large profits. The quarterly tax will apply to both domestically produced and imported barrels of oil to ensure a level playing field.

https://www.brown.senate.gov/newsroom/press/release/sherrod-brown-oil-price-gouging-relief
---
This is not a windfall profits tax. This is not a tax on predatory pricing or "excessive" margin expansion. Instead, if you produce or purchase a barrel of oil, you are going to be taxed 50% of the difference between today's price of oil and the average price of oil from 2015-2019 (right at $53 per barrel if you're using WTI, slightly more if you're using Brent). So if the price of oil is $100 per barrel, you are going to pay a tax of $23.50 ($100 minus $53, divided by two) on every barrel of oil you produce or purchase, regardless of whatever profit margin expansion you did or did not impose.
This is a tax on production.
Let me say that a little louder for those sitting in back.
THIS IS NOT A WINDFALL PROFITS TAX. THIS IS A TAX ON OIL PRODUCTION.
At exactly the time when supply is down. At exactly the time when we need to produce more oil.
There is NOTHING about this bill that will lower the price of gasoline, that will push Big Oil to sell more gasoline with a smaller profit margin.
On the contrary, if I'm Big Oil the obvious response to this bill is to expand my profit margins still further!
If I'm going to be taxed on the price of a barrel of oil and not the price at the pump, then I am going to capture more profit by expanding my margins and raising the price of gasoline.
On the contrary, if I'm Big Oil the obvious response to this bill is to produce less oil!
If I'm going to be taxed on every barrel of oil I bring up out of the ground, but there's a good chance that this tax could be reversed with a GOP sweep this November or a change in the White House in two years, then I think I'll keep as much oil in the ground as I can for now, thank you very much.
The Big Oil Windfall Profits Tax Act will raise the price of gasoline, not lower it.
The Big Oil Windfall Profits Tax Act will reduce the supply of gasoline, not increase it.
And you incumbent politicians think you're unpopular now?
It reminds me of May 2008, when Congress passed the Ensuring Continued Access to Student Loans Act, raising the maximum unsubsidized Stafford annual loan amount by $2,000.
It took Apollo and all the other for-profit education companies about three days to raise their tuitions across the board by … [checks notes] … exactly $2,000.
Yes, that's a Republican President signing that bill into law.
It reminds me of this: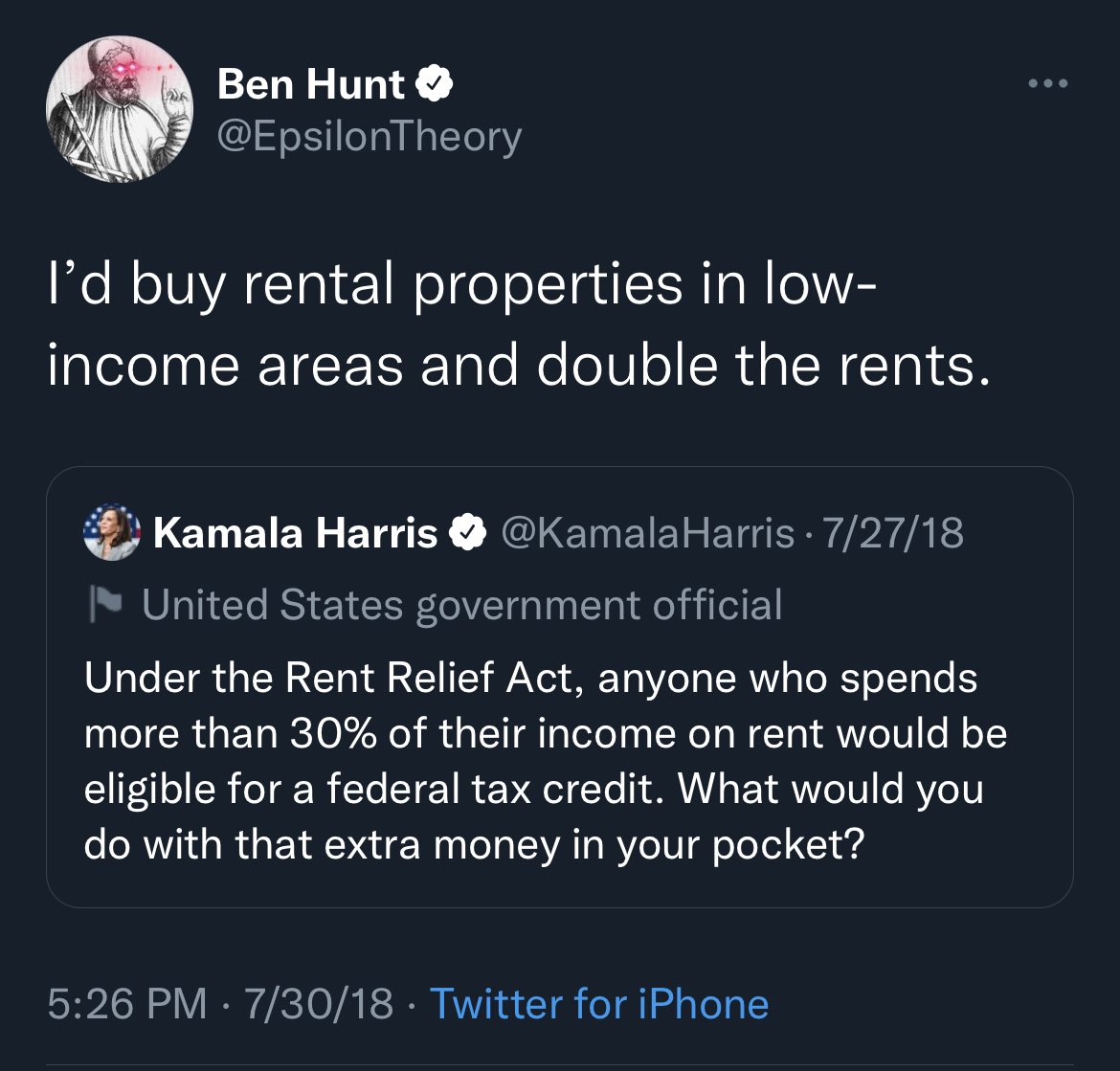 ---
This isn't rocket science. This isn't higher math or advanced macroeconomics. No one has ever confused Sherrod Brown, the lead author of this legislation, with Aristotle, but you don't have to be Aristotle to immediately grok that this bill won't lower gas prices at all. Not at all.
So why is Sherrod Brown putting this bill forward? Is he … you know … stupid? Haha! No, I really don't think that's true.
I think the truth is this: Sherrod Brown and his co-sponsors know that this bill will never pass, and they don't care if it ever does. This bill was not written to become a good law. It was written to tell a good story.
Writing and passing actual legislation is no longer the point of American government. The point of American government is to remain in American government, and the way you do that is to tell a good story.
Sherrod Brown is 69 years old, and he has never had a job of any sort outside of politics. As in literally never a job outside of politics since being elected to the Ohio statehouse at the tender age of 23.
Sherrod Brown is NOT stupid. He is a professional politician.
The bill's co-author, Sheldon Whitehouse, age 66, has also never had a job outside of government. The bill's other Senate sponsors are Jeff Merkley (65), Elizabeth Warren (72), Bernie Sanders (80), Richard Blumenthal (76), Tammy Baldwin (60), Jack Reed (72), Ed Markey (75), Cory Booker (52), Michael Bennet (57), and Bob Casey (61). Take a quick look to see a) how many are lawyers and b) how many have spent a day out of professional government service at any point in their loooong adult lives. Go on, I dare you to look it up.
It's no different on the other side of the aisle, of course. For example, the ranking GOP member of the Senate Banking committee that Sherrod Brown chairs is Richard Shelby. He is 87 years old. Apart from a stint as the Tuscaloosa, Alabama city prosecutor from 1963-1971, Shelby has never held a job outside of elected politics. Take a look at the resumes of the Senate Republican leadership team – Mitch McConnell (80), John Thune (61), John Barrasso (69), and Roy Blunt (72) – and let me know how much of their loooong adult lives have been spent outside of politics.
When I say they're not sending their best, the they is us.
How do we do better?
---
---