---
PDF download (subscribers only): Narrative and Metaverse, Pt. 3: The Luther Protocol
---
Narrative and Metaverse
Part 3: The Luther Protocol
---
Our story so far …
The metaverse is real. It is an invisible, yet physically instantiated world of quadrillions of clustered human neurons alive in an electric ocean of neurochemicals, networked across billions of human brains through shared linguistic structures. These linguistic structures are the grammars of narrative. Like a microbe, these narrative grammars are profoundly alien to our conception of life, but a biological conception of narratives and a physical conception of their environment – the metaverse – is as important as a biological conception of viruses and bacteria.
Why? Because also like viruses and bacteria, these narrative grammars can be altered at a fundamental level through gain-of-function technologies. They can be weaponized. Big Tech, Big Media and Big Politics have made a conscious effort to weaponize these narrative organisms by inserting specific linguistic triggers that in turn shape the physical clustering of human neurons in ways that serve their interests. Big Tech/Media/Politics are changing the way we think.
Today we begin the battle to reclaim our humanity and our autonomy of mind.
---
---
A gentile came before two teachers, Shammai the strict and Hillel the tolerant, and to each in turn said, "I will convert to Judaism if you can teach me the whole Torah while I stand on one foot."
Shammai chased him away.
But Hillel said to the gentile, "What is hateful to you, do not do to your neighbor. That is the whole Torah; the rest is commentary. Now go and learn it."
---
The Golden Rule is one of the Oldest Stories. It is certainly the Best Story. It is written in ancient Egyptian fables, preserved in papyri from the Middle Kingdom. It is written in the Sanskrit epic "Mahabarata", as the way in which dharma manifests itself in human affairs. It is written in the Greek texts of Thales and Pythagoras. It is written in the Persian texts of Zoroaster. It is written in the Sermon on the Mount.
We're going to write it again.
The rest is commentary.
---
The Three Theorems of Psychohistorical Quantitivity:

1) The population under scrutiny is oblivious to the existence of the science of Psychohistory.

2) The time periods dealt with are in the region of 3 generations.

3) The population must be in the billions for a statistical probability to have a psychohistorical validity.
We are all susceptible to the pull of viral ideas.

Like mass hysteria. Or a tune that gets into your head that you keep humming all day until you spread it to someone else.

Jokes. Urban legends. Crackpot religions. Marxism.
---
These two quotes are at the core of my thinking about narrative and metaverse, and how we can write the Old Stories and sing the Old Songs again.
From Isaac Asimov, there is a knowable, scientific structure to how unstructured data shapes the behavior of humanity, and that knowledge can be used for good or for evil.
From Neal Stephenson, language is literally a virus, and the technology of digital networks can and will be used for the intentional pandemic spread of gene-spliced linguistic structures.
As importantly, though, these two books are at the core of my thinking about narrative and the metaverse, and how we can write the Old Stories and sing the Old Songs again. I was 16 when I read the Foundation Trilogy, 28 when I read Snow Crash. They're books that I read at just the right time in my life, books that have informed and influenced everything that came after them. Books that left a scar.
We've all had that experience, right? Books that we read at just the right time? And books that we didn't. We've all that experience of telling a close friend that they must read one of those special books, and they do, and … ehh. Vice versa, too. Honestly, I've started Godel, Escher, Bach half a dozen times because friends have said that it's so great, and I've never been able to get into it. And for the love of god please don't talk to me about Ayn Rand.
So why is THAT? Why would a book need just the right timing to hit us so hard, to change the way we think for the rest of our life, and if it misses that timing, then … ehh. And why do we all read these life-changing books in our teens and 20s?
I believe it's because our linguistic neural clusters, certainly those focused on grammatical and narrative structures, are not fully formed in our teens and 20s. There is still an opportunity for those clusters to be not only triggered, but actually imprinted and compiled in our teens and 20s, for new associations to be made between linguistic stimuli. And yet our cerebral cortex is developed enough, i.e. all of the ngram-processing neurons are there as building blocks, so that it is possible to make these higher-order neural compilations and connections in the first place.
It's the same reason why mathematical discovery is dominated by the young. They're not neurally locked into a status quo way of thinking.
---
In a lot of the sciences, there's a tremendous value that comes from experience and building up familiarity with thousands and thousands of complicated special cases. Whereas mathematics tends to be concerned with simpler things. And the people who do it best are the ones who understand nothing about how it was understood before and bring some completely new perspective. 
-- David Vogan, Norbert Wiener Chair of Mathematics, MIT
---
It's the same reason why artistic discovery is dominated by the young. There is no body of knowledge at the heart of good art, no accumulation of familiarity with "thousands and thousands of complicated special cases". You don't have to build up a fortune to make good art. You don't have to work for decades to make good art. You don't have to possess special knowledge to make good art. You just have to make a new neural connection, one that no one has made before.
Good art – art that changes the way we think – is always the shock of the new.
---
In art there is no progress, only fluctuations of intensity. Not even the greatest doctor in Bologna in the 17th century knew as much about the human body as today's third-year medical student. But nobody alive today can draw as well as Rembrandt or Goya.
-- Robert Hughes, The Shock of the New
---
Is it impossible for us old guys to be creative, to generate a shock of the new? No, not impossible. I mean, Beethoven was 56 when he wrote his Fifth Symphony. Gandhi was 60 when he led the Dandi Salt March. But it's easier for the young, soooo much easier, because they are not yet as hardwired – literally hardwired – to be not-creative.
Particularly in the most important arena of human creativity, religious and philosophical discovery, it's easier for the less neurally hardwired to connect the soul and the self to the world-as-it-is in a way that sparks action and insurgency against the Snake. It's easier for the young – or at least the neurally young – to write the Old Stories and sing the Old Songs with a new twist. Like these three young revolutionaries, three genius (re)writers of the Golden Rule in a way that was profoundly new for their time:
Jesus was 30 years old when He sang Love Thy Neighbor As You Love Thyself.
Martin Luther was 33 years old when he sang Sola Scriptura, Sola Fides.
Martin Luther King, Jr. was 34 years old when he sang I Have A Dream.
Ah, youth. And it's not just the Christian world.
Siddhartha was 35 years old when he became the Buddha, finding enlightenment by seeing through our meat-world to the metaverse beyond, by singing the Song of the Self in an entirely new key. The key of Not-Self.
Muhammed was 39 years old when he became a Prophet, receiving his first revelation in the form of an angel's command: Read! for Allah is He who taught by the pen, taught man that which he knew not. In Islam as in every great religion, words are not just a vehicle for communicating faith, not just a foundation of faith. They ARE faith.
So yeah, I'm feeling pretty washed up at 57, and maybe a little out of tune with the ideas of Make / Protect / Teach. It's fine. Still plenty of time to write my verse. Just gotta get ego out of the way, which is always easier said than done. But here's the thing. I don't think any of us, including the physically young, are neurally young anymore. I think all of us, including the physically young, have been neurally aged and locked into pernicious, not-creative ways of thinking by the crowding-out and constant blare of the Snake-enabled narratives of the Nudging State and Nudging Oligarchy.
I believe that this crowding-out effect is biological in nature.
I believe that billions of our individual neurons are being physically rewired by the ubiquitous distribution of specific linguistic grammars by Big Tech, Big Media and Big Politics, and by extension the billions-factorial metaversal network – the instantiation of human thought and belief – is being metaphysically rewired, as well.
I believe that we are being physically altered to be a less creative, less self-aware, and less empathetic species.
We've been doing this for thousands of years with other sentient species. Human selection on "tameness" has physically altered dogs, cats, cows, horses, sheep, and pigs across a wide array of traits, including floppier ears, shorter snouts, hair color variability and smaller brains, most likely based on more basic inherited alterations in certain stem cell and stress hormone production patterns (see Domesticated: Evolution in a Man-Made World, by Richard Francis, for a great read on all this).
And yes, smaller brains. It's the one physical alteration that all domesticated animal species share relative to their non-domesticated cousins.
I believe that we are being domesticated through selective narratives for a social monoculture in exactly the same way that other sentient species are domesticated through selective breeding for a protein monoculture, and that this domestication manifests itself in a physical alteration of our brains.
Smaller brains? Fewer neurons? No idea. Differently wired neurons that change the way we think? Differently wired neurons that change the thoughts we are able to think? Absolutely.
---
Bernard Lowe: Last question Dolores. What if I told you that you were wrong? That there are no chance encounters? That you and everyone you know were built to gratify the desires of the people who pay to visit your world? The people you call the newcomers.

Bernard Lowe: What if I told you that you can't hurt the newcomers? And that they can do anything they want to you?
---
To be sure, this physical alteration of the human species has been happening for a long time. Since the invention of language, in fact, and accelerated over the past few centuries by every landmark event in the development of mass society. Events like Napoleon's levee en masse, the Industrial Revolution, and Fordism.
---
Historical fact: people stopped being human in 1913. That was the year Henry Ford put his cars on rollers and made his workers adopt the speed of the assembly line. At first, workers rebelled. They quit in droves, unable to accustom their bodies to the new pace of the age. Since then, however, the adaptation has been passed down: we've all inherited it to some degree, so that we plug right into joysticks and remotes, to repetitive motions of a hundred kinds.
-- Jeffrey Eugenides, Middlesex
---
What's different today is the Big Tech/Media/Politics hyper-acceleration of the network effects that are occurring within our individual brains and within the metaverse at large, such that I believe we are close to crossing an event horizon of social organization.
Hmm. In English, Ben?
When we physically rewire our individual brains, we also rewire the network of those individual brains – the metaverse. We not only change the way that humans think as individuals, but we also change the way that humans – a social animal in the technical sense of the term – think as a group. And because the fundamental substrate of this network – this metaverse – is made up of linguistic structures that also make up our very thoughts, rewiring of the metaverse becomes a one-way street. Once societal change is established in the metaverse, it becomes difficult if not impossible to think the thoughts that would allow the reversal of that change.
One example of this is what I call the speculation layer – a mental and behavioral protocol where everything becomes a symbolic transaction. Big Tech, Big Media, and Big Politics have turned the symbolic transactions of everything into the water in which we swim, a metaversal change in the way we 'naturally' think about our social world.
Big Politics:
Absorbed by the speculation layer, "politics" is no longer a mechanism for sorting real-world policy preferences and engaging in good faith bargaining to find real-world policy equilibria across those preferences, but instead is a competitive mass signaling exercise for charismatic symbolists to position themselves for in-group rewards and ceremonial jousts at scale.
Big Media:
In its pure grain alcohol form, the speculation layer is Robinhood. It's DraftKings. It's Barstool Sports. It's FiveThirtyEight. It's NFTs. It's crypto. There's little effort even to pretend that they're about something other than speculation. And why should they? We're all adults here! No one's forcing you to drink, Ben.

In its 80-proof form, the speculation layer is CNBC. It's ESPN. It's CNN. It's Fox News. It's MSNBC. A wave of the hand at "substance", but in reality 24-hour non-stop editorial coverage of horseraces that you simply must have a betting opinion about to be a smart investor or a smart sports fan or a smart Democrat or a smart Republican. You want to be smart, don't you, Ben? C'mon, just a sip. It'll make you smart. Promise.
Big Tech:
The bartenders with a heavy pour, of course, are Twitter and Facebook and Google and the rest of the social media "platform" multiverse, oh-so intent to preserve plausible deniability about their intentions, but in truth completely committed to promoting our personal and collective addiction to the dopamine hits of the speculation layer. Have another drink, Ben, this one's on the house.
Placing the addictive, crowding-out effect of Big Tech/Media/Politics narratives on a biological foundation – making the argument that intentionally weaponized narratives are physically rewiring our brains and permanently shifting what is possible in our society – has two crucial implications, I think.
First, the innate biological response of organisms in the microverse, bacteria in particular, to physical crowding is a widely recognized, widely studied phenomenon. We know, for example, that the genes expressed by Salmonella typhimurium change when there's a high density of bacterial cells present than a low density. There's no sentience involved here. It's not that the bacteria feel stressed or crowded. They are genetically designed to act and behave very differently when they're crowded than when they're not, and the host organism – you or me when we eat some bad lettuce, say – will get a lot sicker when the Salmonella bacteria express the genes that are triggered by crowding.
My hope is that a biological SCIENCE of narrative expression – call it biosemiotics or biolinguistics – will encourage researchers to take the amazing work that's been done in microbiology and virology over the past 50 years and apply it to the social sciences.
Social science today, based on a witches brew of formal economics and tortured, largely non-replicable data analysis, is worse than a dead end. It is – and I say this as a former high priest of the church – the ruin of the world, where Follow the Science! TM has replaced Follow the Flag! TM as the dominant narrative shield for the Nudging State. It's past time to change the foundations of the social sciences, and a biological approach to metaverse, language and symbolic meaning can do just that.
Second, everything that I've been saying in this trilogy of notes is based on the idea that both the microverse and the metaverse are invisible, profoundly alien and yet physically real environments. The only difference is that we all believe in the physical reality of the microverse and its lifeforms but no one believes in the physical reality of the metaverse and its lifeforms!
Yet.
My hope is that a biological STORY of how narratives can literally infect our thoughts by altering the physical patterning of neuron clusters within our brain will encourage everyone to focus on the poisonous narrative waters in which we swim, perhaps seeing it for the first time in their lives, and take action to heal themselves and their families.
We've all experienced it, right? The friends and family members who we can't talk to anymore because their every waking thought has been infected by a narrative virus? I don't know a single family or a single set of friends that hasn't been hit hard by the mental illness – sorry, but that is the correct term – that a weaponized narrative can trigger.
I'll go farther than that.
I do not know a single person – myself included – who is not mentally more disconnected from the real world than they were a few years ago.
I do not know a single person – myself included – who is not mentally more vulnerable than they were a few years ago and, if we're being honest with ourselves, is not feeling mentally … altered.
We are all LIVING less today than we were a few years ago. We are all LOVING less today than we were a few years ago. We are all REFLECTING less today than we were a few years ago.
The worst part is, we can't even tell what we're losing while we are losing it. We don't have the words to describe what is happening to us, which means we don't have thoughts of what we're losing. Until it's too late. Until it's already gone.
---
I never noticed it until
'Twas gone – the narrow copse
Where now the woodman lops
The last of the willows with his bill
-- Edward Thomas, First Known When Lost (1917)
---
Edward Thomas wrote this poem of loss and remembrance, using his memories of the English countryside as his canvas, in early 1917 while serving as a private in the British Infantry. Thomas was part of a regiment known as the Artists Rifles, named such because the majority of the enlisted men were of similar position and social status as Thomas – creative professionals, doctors, lawyers and the like. Over the course of World War I, the 15,000 men of the Artists Rifles – almost all of them volunteers like Thomas – suffered more than 5,000 dead and wounded.
Thomas was killed in action at the Battle of Arras a few months after writing this poem. He was 39 years old, survived by his wife and five children.
Edward Thomas saw with clear eyes how modernity and mass society were agents of loss in his world. Edward Thomas sacrificed everything in the fullness of his heart to fight what he thought was the good fight against what he saw as the absolute worst elements of modernity and mass society.
Now it's time for us to fight against those same agents of loss. It will require sacrifice. Not on some Belgian battlefield and not an ultimate sacrifice, thank god, but with no less clear eyes and no less full hearts.
But fight how?
You know, my original idea for how to save the world was to use the tools of the Snake to beat them at their own game. My plan was to crowd-out their self-serving transactional and tribal narratives with new implementations of the Old Stories. It's basically the plot of Asimov's Foundation Trilogy, that a secret priesthood of psycho-historians, properly armed with the knowledge of a Narrative Machine, could set the world straight by nudging humanity onto a better path.
Ego, man, it's a trip.
Not that I couldn't pull it off. I really think I could! At first. But before long the project would be corrupted, maybe by me, maybe by someone else. Not intentionally, I'm sure, but eventually, for sure. I mean … this is one of the core stories of the human condition, the hero taking the MacGuffin of Power to do good, only to have it corrupt him over time. You can't outrun a story like this, no matter how much your ego tells you that you can!
And then it hit me … the Old Stories aren't like the narratives of Big Tech/Media/Politics. They don't have to be nudged onto us. The Old Stories don't have to be sold or transacted. In fact, it corrupts them if they are. No, they only have to be uncovered, they only have to be stripped of the layers upon layers upon layers of nudging narratives that we have willingly accreted on top of them.
The Old Stories have been inside of us all along!
You don't need to consume the Old Stories as 'content'. You don't need a hero to deliver the Old Stories to you on a gleaming platter.
You just have to remember the words.
Words that you already know by heart. Words that act as a magic spell on us, triggering neural clusters that bring out our best metaversal natures, our humanity that is worthy of the words and the Word.
---
Words of self-knowledge and empathy.
May they heal our hearts.
Words of cooperation and neighborliness.
May they heal our packs.
Words of autonomy and civic duty.
May they heal our nations.
---
---
To stick with the biological framework – the Old Stories are our immune system – as natural to us as language itself, evolved neural defense mechanisms against the Snake and his words of transactions and tribes.
How do we fight? How do we reclaim our humanity?
By activating our neural immune system.
This is the Luther Protocol.
I mean the word 'protocol' in a medical or biological sense. It is a regimen and a process to reverse the physical alteration and social domestication of our brains. It is a modern biological and technological formulation of the same regimen that the angel Gabriel revealed to Muhammed – Read! – and that the Buddha used to find enlightenment – Touch the earth!
It's what the wisest humans throughout time have shown us. It was right there in front of us all along.
---

The way out is through the door. Why is it that no one will use this method?


Confucius
---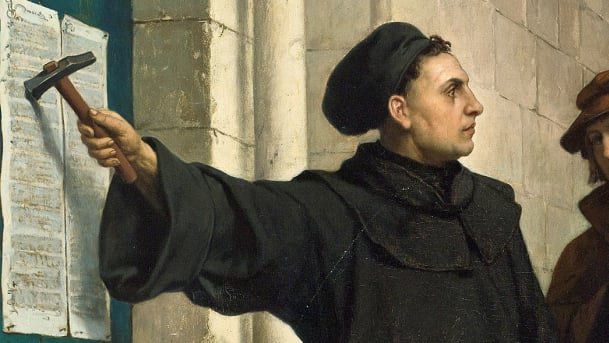 Sola scriptura. Sola fides.
-- Martin Luther, 16th c. metaverse blogger
Sola scriptura means "by the Bible alone". It was Martin Luther's rejection of the State-sponsored narrative that the only way to be free of sin was to work through a priestly caste that interpreted the Bible for you and told you its "true" meaning. Instead, Luther sang that we are ALL wise enough to see the Truth for ourselves without the intermediation of self-interested and self-aggrandizing institutions.
Sola fides means "by Faith alone". It was Luther's rejection of the State-sponsored narrative that good deeds can buy you a place in heaven. As in literally buy you a place in heaven through your State-sanctioned transaction to purchase a get-out-of-Purgatory card, aka an indulgence. Instead, Luther sang that salvation cannot be bought from others, and the only path to salvation is within ourselves.
Luther wasn't shaking his finger at you and telling you the Truth.
Luther was telling you that the Truth was inside you all along.
The Luther Protocol preserves the secular (ie, non-Biblical, non-Christian) essences of sola scriptura and sola fides and recreates them in modern form to activate our neural defense systems against the narrative grammars of Big Tech/Media/Politics (ie, the Snake).
Sola scriptura becomes a rejection of the narrative missionary class, those who shake their finger at us and tell us how to think about the world, those who create our modern Fiat World of reality by assertion.
Sola scriptura is recreated in modern form through a browser-based Narrative Early Warning System (NEWS) that alerts us to the specific linguistic structures that weaponize the Tribal narratives of Big Tech/Media/Politics.
Sola fides becomes a rejection of the powerful state and corporate interests who would shoo us away from reading the texts that form the metaversal foundations of small-l liberalism and small-c conservatism, who would have us trade our autonomy of mind for a mess of pottage.
Sola fides is recreated in modern form through the Narrative Omni-Archive for Humanity (NOAH), an ark of stories that are inviolable from government censorship and, more difficult still, from the seductive Transactional narratives of Big Tech/Media/Politics.
In a few weeks, a major university will be announcing a significant donation from an Epsilon Theory pack member's family to establish a narrative research center within the university, where we plan to put these initial Luther Protocol projects – NEWS and NOAH – into action. We also plan to establish an independent Foundation for Applied BioLinguistic Education (FABLE) to provide ongoing funding for the university narrative research center in general and these projects in particular.
Haha! Well, there's a lot to unpack here, Ben.
Yes.
And no. It's really not that complicated once you start thinking in terms of a living metaverse, an invisible yet entirely real world of quadrillions of patterned human neurons, networked through shared linguistic structures and accessible through network-aware technologies.
The core network-aware technology for NEWS is Natural Language Processing (NLP). We develop a lexicon of grammatical units of meaning that are specific to Tribal narrative archetypes (for example, see our note An Inconvenient Truce), and we make a real-time comparison between what you're reading in a browser and that lexicon. The core network-aware technology for NOAH is a blockchain. We tap into the enormous spirit of the crypto community to develop a robust protocol (for example, see our note The Green Protocol: A New Vision for Crypto, Pt. 2) for archiving and retrieving texts, a protocol that can't be blocked by China or bought by Disney.
Easy? No. Expensive? Sure.
Worth it? Without a doubt.
I'll close with this, one of the most inspirational quotes I know from one of the most inspirational human beings I know. And you thought the Luther Protocol was named after the guy from the 16th century.
---
The arc of the moral universe is long, but it bends towards justice.
Martin Luther King, Jr.
---
But does it?
Does it really?
I'd like to believe it does, but I know in my heart that the path of this arc is beset on all sides by the inequities of the selfish and the tyranny of evil men. They seek to change the way we think about the moral universe, to nudge our thoughts and beliefs about what is right in the world with carefully engineered words and images and narratives, to bend that arc of the moral universe for their own political or economic purposes.
Today we take a stand to protect and defend the arc of the moral universe in its long path towards liberty and justice for all. Today we begin the Luther Protocol.
The rest is commentary.
---
---