---
PDF download (subscribers only): Narrative and Metaverse, Pt. 2: Gain of Function
---
Narrative and Metaverse
Part 2: Gain of Function
---
Why is it so difficult to see that there is an actual, physical world of thought where narratives live, and that these narratives can be diminished or enhanced by the metaverse-aware, just as viruses can be diminished or enhanced by the microverse-aware?

Narrative and Metaverse, Pt. 1: The Living Word
---
---
Nothing influences people more than a recommendation from a trusted friend.
Mark Zuckerberg
---
As regular readers of Epsilon Theory know, I'm a dilettante farmer, meaning that my primary farming goal is really just to avoid injury (well, severe injury) as I act out the timeworn middle-aged white guy fantasy of driving a tractor and "working the land". So, yes, we have horses and sheep and goats, but they're pets, not livestock. Their meaning to me is aesthetic, not utilitarian, and I think of our flock of sheep, for example, as a living, mobile art installation.
My grandfather and namesake, who was a non-dilettante dairy farmer in North Alabama, would find my attitude towards these animals entirely alien and more than a little comical. Every animal on my grandfather's farm had a utilitarian purpose and meaning. Every animal's survival, literally whether or not they would be killed or allowed to live another day, was the result of a constant, unceasing, utilitarian cost-benefit analysis. That Ben Hunt, unlike this Ben Hunt, was in the business of farming, which requires thinking about animals in a very different way than dilettante farming.
Farmers or not, I believe it's fair to say that most people in the 1930s shared my grandfather's utilitarian thinking about animals, and I believe it's fair to say that most people today share mine. It's interesting to me that our society-wide thinking about animals has changed so dramatically in less than 100 years, and I believe it's because on a society-wide basis we have hidden away all of the billions of poultry and livestock animals that used to live among us.
Did you know that there are 75 million pigs and hogs kept as livestock in the United States? 75 million! I've never seen one of them. I see the shrink-wrapped chops and bacon and roasts every time I go to the grocery store, but I have never seen ONE of the 75 million alive-only-until-a-utilitarian-calculus-determines-they-will-be-slaughtered pigs and hogs.
About 9 billion chickens will be killed for food in the United States this year. Another 400 million or so will lay eggs for us. There are about 100 million cows alive today in the United States, and less than 10% of that total are dairy cows. More than 100,000 cows are killed to be eaten in the United States every day.
Out of sight, out of mind.
An ocean of shrink-wrapped animal flesh becomes the water in which we swim, invisible to conscious thought, much less consternation. And what a vast and well-priced ocean of shrink-wrapped animal flesh it is! … oh-so democratically available as befits this, the best of all possible worlds. So vast that I cannot remember a single day of my life where I did not eat the flesh of another animal. So invisible that I cannot remember a single day of my life where I thought of it as eating the flesh of another animal.
We no longer think of animal-as-food because we no longer have the story of animal-as-food.
We no longer have any personal experience or knowledge of the animals we eat, because those billions of animals (billions!) have been intentionally sequestered and hidden away from us. More importantly we have no mediated or socially-shared linguistic experience (none at all!) with how the food we eat comes to us. This is intentional, as well.
The story of animal-as-food has been erased from the metaverse.
It starts, as it always does, with the words.
We have many words, thousands of words, for the (literally) disembodied animal part and its preparation into a meal. We have entire television networks devoted exclusively to words of food preparation. I have personally watched hundreds of hours of Top Chef and Chopped and Hells Kitchen and Masterchef and … my god, but it just hit me that I have spent a measurable portion of my life consuming this mediated, socially-shared food preparation content. I know so many words about cooking techniques for (literally) disembodied animal parts. More than the words, I know the grammar. I know how a meal can be constructed to make sense and have power as a social communication. And it does! There is nothing like a good meal with family and friends to communicate and instantiate our shared humanity.
My point is not that our modern words and grammar of food are 'bad'. My point is not that we should stop eating animals-as-food. My point is that ALL of our modern words and grammar of food refer to the (literally) disembodied animal part as the singular object of attention, as a thing-in-itself. There are no recipes, no cooking competitions, no TV shows that start with the living animal as the thing-in-itself, as the object that must be killed and dismembered to provide for the amazing meal to come.
Well of course we don't have butchering competitions on TV, Ben, that would be horrible. Everyone would be put off to see the Top Chef contestants pluck a chicken before they cook it. To which I say … yes, exactly. The story of transforming a sentient creature into food – the act of plucking a chicken or gutting a fish or butchering a cow – is not a 'fun' story. Every consumption of animal-as-food is a story of sacrifice. It's why we used to give thanks and "say grace" before a big meal with a big cooked animal. We used to have the words for this. I know my grandfather did.
Today … have you noticed that chefs on these TV shows no longer even call animal-as-food by its animal name? No, they call it "protein", as in "choose your protein carefully for this cooking challenge!" or "this would be a difficult protein for a less skilled chef!". There's no longer even a pretense of connecting the food with the animal life from which it came. Occasionally you'll hear one of the chefs talk about "honoring the protein", but only when it is an expensive piece of animal-as-food. The 'honor' – by which they mean an especially tasty preparation technique – is not due to the sentient life that was sacrificed to provide the animal-as-food, but to the American Eater, who would no doubt be aghast at, say, improperly rendered fat in a seared duck breast, or an overcooked filet mignon served with a pedestrian condiment.
---
Imagine if we had a food system that actually produced wholesome food. Imagine if it produced that food in a way that restored the land. Imagine if we could eat every meal knowing these few simple things: What it is we're eating. Where it came from. How it found its way to our table. And what it really cost.

Imagine it: Every meal would connect us to the joy of living and the wonder of nature. Every meal would be like saying grace. 

 -- Michael Pollan, The Omnivore's Dilemma (2006)
---
Can you imagine that? Knowing where all your food came from? Knowing the story of your food?
I honestly can't. I simply do not have the words for it.
With one exception. My eggs. And it is in this exception that I learned the process by which some stories are erased from the metaverse and others are implanted.
There is one animal on our dilettante farm where my thinking is as utilitarian as my grandfather's, and that's our chickens. I understand that some people like chickens for their aesthetics, but that's not me. I'm so over that with chickens. Chickens are, by nature, stupid and cruel in a pack environment, as their dinosaur brains hardwire them to bully the weak or the different just because they can.
To keep the eggs coming, it's important to provide minerals in your chickens' diet, particularly calcium for sturdy egg shells. That's what egg shells are made of – calcium carbonate – and as any backyard chicken keeper knows, the cheapest and most effective way to accomplish this dietary supplement is to feed the chickens their own egg shells.
But there's a catch. Before you put the broken egg shells into the coop along with the other kitchen scraps, you have to grind them up. Why? Because the dinosaur brain of every chicken has clusters of neurons evolved to recognize a curved macro surface … like an egg. In fact, the dinosaur brain of every chicken has lots of these neural clusters devoted to recognizing curved macro surfaces, because the informational processing of curved macro surfaces – it's an egg! – is so crucial to the evolved life processes of the species.
If those neural clusters evolved to recognize curved macro surfaces somehow become associated with the neural clusters that drive food acquisition and pecking, your chickens will "learn" to peck at curved surfaces wherever they see them … like in the fresh, unbroken eggs that their sisters lay. The macro curve-recognizing neural clusters are always there. Nothing you can do about it. The trick is to avoid triggering the stimulation of the macro curve-recognizing neural clusters in association with feeding-related behaviors.
So we have a big old-fashioned mortar and pestle in our kitchen which for the past 12 years has been used for nothing other than grinding down egg shells until they're not easily recognizable as a curved macro surface. It's wonderfully therapeutic, honestly, to grind the shells.
And now for a thought experiment. Imagine if I didn't want to prevent my chickens from destroying their own eggs. Imagine if I wanted to make them do it. How simple it would be! I'd just feed them the uncrushed shells.
But that's crazy, Ben. Why would you want to trigger specific neural clusters in your chickens' brains in a way that would cause them to start pecking at their own eggs?
This is the point where we stop talking about chickens.
---
The human brain does not have a lot of neural clusters that are triggered by images of curved macro surfaces. We have some, but not a lot. Eggs aren't at the center of meaning for our species.
The center of our species is language. And our brains protect and nurture it at all costs.
Not just our primate brains but our entire primate body has evolved to protect and nurture language.
---
The immediate problem  [with the invention of language] would seem to have been that there were more things to name than sounds to name them with. The vocal problems were eventually handled evolutionarily—and apparently in fairly short order—by turning our throat over largely to the manufacture of speech. Not without cost, as it turns out. The larynx has moved down in the throat in such a way as to make us as a species highly vulnerable to choking on our food—a not uncommon cause of death. It's also left us as the only mammal incapable of swallowing and vocalizing at the same time. 

Did it  [language] meet some need? No. The other five thousand plus mammals among us do fine without it. But useful? Oh yes. We might further point out that when it arrived it had no place to go. The brain was not expecting it and had made no plans for its arrival. It simply invaded those areas of the brain that were the least dedicated ... very much like a parasitic invasion.

 -- Cormac McCarthy, The Kekule Problem
---
First of all, how cool is it that Cormac McCarthy, my favorite living author, now hangs out at the Santa Fe Institute thinking about the biological foundations of language? But I think McCarthy gets something wrong.
The takeover of the human brain by language is not like a parasitic invasion. It IS a parasitic invasion.
Well, more symbiotic than parasitic, maybe. But an invasion by an alien lifeform nonetheless.
There are billions of neurons in my brain and your brain devoted to language, billions of self-organizing neurons providing the ideal host environment for persistent linguistic entities – words, grammars, story arcs – that are physically instantiated within that vast neurochemical network of the human brain and are perfect symbiotes for the human brain and yet are fundamentally foreign to the human brain.
I know, it's an impossible idea to wrap our heads around. We don't think of language as somehow foreign to our biology … how could we? We literally think in language! There is no conscious human thought outside of language beyond the age of 2. We are never separated from language. It is our constant companion in our own heads.
And so when we are told that the human microbiome contains 39 trillion foreign microbial organisms – that there are more non-human bacteria and viruses and spores alive within us than we have human cells – we pause to consider for a moment, shake our head at the incomprehensible scale of the microverse, and say 'wow, how about that?'. We can somehow wrap our heads around the insane (but true!) fact that our gut hosts trillions of foreign microbial organisms.
But to imagine that there is a similarly insane (but true?) fact that our brains host some incomprehensibly large number of foreign linguistic organisms … we say 'nah, no way'.
---
The greatest trick of the Devil was to convince the world he did not exist.
Charles Beaudelaire
---
I'm not saying that language is the Devil.
I am saying that language, through its symbiotic relationship with the human brain and its hijacking of all human thought, has convinced us that it does not exist in the physical universe, that it is a merely a ghost in the machine.
I am saying that the metaverse – a profoundly alien environment made up of quadrillions of human neurons across billions of human brains – is as real as the microverse, and that linguistic structures exist in the metaverse in exactly the same profoundly alien way that viruses and other microbial lifeforms exist in the microverse.
I am saying that all animal species more neurally advanced than, say, a flatworm have evolved exactly the same biology of self-organizing and clustering neurons on a micro-scale. I am saying that in their micro-scale neural biology, there is no difference between the dinosaur brain of a chicken and the primate brain of a human.
I am saying that alone among all animal species on Earth, the human central nervous system has been captured by language (more generally, by the symbolic representation of information). I am saying that in neural terms, the modern human species is a symbiote of a run-of-the-mill, albeit large animal brain and a unique set of alien linguistic entities.
I am saying that perceptive humans, from the earliest days of a language-symbiotic human species, have recognized that the use of specific linguistic structures – words and grammars and story arcs – can be used to trigger certain neural clusters in humans in exactly the same way that a chicken's macro curve-recognition neural clusters can be triggered, allowing the probabilistic control of human behaviors. Political behaviors. Economic behaviors. Violence behaviors.
I am saying that these purposeful linguistic triggers are the whispers of the Snake … the oldest story of them all.
I am saying that for all but the last few decades of human existence, the Snake operated in the background, disjointedly, as an inchoate collection of ad men who expressed their powers in every age and every culture as the charismatic politician or the effective salesman.
What you call love was invented by guys like me ... to sell nylons.
Don Draper
I am saying that for all but the last few decades of human existence, it took the Snake a very, very long time and a massive physical mobilization of resources to change the way we think about core social behaviors. Like animals-as-food.
I am saying that for all but the last few decades of human existence, the powers of the Snake have been limited by a) the absence of more than simple intuition and isolated personal experience that human behavior is biologically controllable through linguistic structures, and b) the absence of technological scale for the rapid development and global distribution of these linguistic triggers.
---
I am saying that all of that has changed.
---
In theory, you can use Android without Google.
Sundar Pichai
Senator, we run ads.
Mark Zuckerberg
I am saying that the modern Snakes of Big Tech, Big Media and Big Politics – those who are in the business of changing the way we think through purposeful linguistic triggers – consider humans in the same utilitarian way that my grandfather considered his farm animals.
Oh, it's not that the Snakes are mean about it. They're not going to eat the dairy cows, after all. It's not like that. It's just that … people don't know their own self-interest. They need to be led. They need to be nudged. They need to be milked. It's for their own good, really. Plus, as any self-respecting Snake will tell you, even if they wanted to treat people as, you know, human beings, they have a Fiduciary Responsibility To Our Shareholders! TM if in Big Tech or Big Media, or a Responsibility to the Country! TM if in Big Politics.
I am saying that the modern Snakes of Big Tech, Big Media and Big Politics recognize that the metaverse is real.
Maybe they're not all-in for my idea that the words, grammars and story arcs that live in the metaverse are just as alive as any self-respecting virus, but the modern Snake totally gets what I'm talking about when I say that the metaverse is real. Google didn't change its name to Alphabet and Facebook didn't change its name to Meta by accident, and they didn't reshape their companies to go after "virtual reality" toys and avatars. This is a land grab, pure and simple, a race to stake out as much territory as possible, not in the physical geography of Earth, but in the far larger and far more important geography of quadrillions of linguistically-organized human neurons.
I am saying that by building a ubiquitous, always-on digital window to the metaverse, the modern Snakes of Big Tech, Big Media and Big Politics are able to develop and distribute their linguistic triggers at a scale and speed that was unimaginable even 20 years ago.
The always-on digital window into the metaverse is the foundation of Fiat World, where our reality is given to us by proclamation. Where we are told that inflation does not exist until we are told that it does, where we are told that wealth inequality and meager productivity and negative savings rates are natural and good, where we are told we must vote for ridiculous candidates to be a proper Republican or a proper Democrat, where we are told that we must buy ridiculous securities to be a proper investor, where we are told we must borrow ridiculous sums to be a proper human. None of this would be possible without an always-on digital window into the metaverse. None of it.
I am saying that the modern Snakes of Big Tech, Big Media and Big Politics are engaged in a widespread program of gain-of-function research on the linguistic entities of the metaverse.
At this point, if you don't understand that every consumer-facing public company and every voter-facing political party is engaged in intensive R&D efforts to automate and maximize consumer/voter engagement, you've been living under a rock. Engagement is the fundamental metric of every Google and Microsoft and Baidu search, every Facebook and Dow Jones and Bloomberg feed, every YouTube and Instagram and TikTok and Amazon and Netflix and iTunes and Spotify recommendation, every DNC and RNC policy proposal. Creating and monetizing human engagement is the explicit and announced goal of the modern Snake, and all of their whispers are devoted to this end. All of them.
---
70% of watch-time on YouTube is spent watching videos the algorithm recommends.
-- Neal Mohan, YouTube Chief Product Officer
Facebook's own research says as these young women begin to consume this eating disorder content, they get more and more depressed and it actually makes them use the app more and so they end up in this feedback cycle where they hate their bodies more and more.
-- Frances Haugen, Facebook Whistleblower 60 Minutes Transcript
---
The Google Borg and the Facebook Leviathan get most of my attention here, and for good reason, but I cannot emphasize strongly enough that what I am describing goes far beyond Google and Facebook. The engineering of language for neural effect is now the water in which we swim, ubiquitous and invisible. It's the Speculation Layer.
---
Within five years, I believe that almost every form of organized social behavior will be fully abstracted into a speculation layer made up of 1) objects: a set of symbols representing real world entities formerly at the heart of those organized behaviors, 2) protocols: a government-sanctioned and oligarchy-established set of rules for a virtual betting market in those symbols, and 3) tokens: a similarly sanctioned and established set of casino chips providing liquidity for the betting market in those symbols.

The future is a world of bets, on everything, all the time.

So is the present.

Absorbed by the speculation layer, "the market" is no longer an exchange for buying fractional ownership shares of real-world companies doing real-world things, but instead is a virtual casino for betting whether the numbers associated with a three or four-letter symbol will go up or down.

Absorbed by the speculation layer, "sports" is no longer a venue for passionate support of a team's real-world competitive success, but instead is a constant exercise in odds-making across every conceivable derivative aspect of the individual competitors and the competition itself.

Absorbed by the speculation layer, "politics" is no longer a mechanism for sorting real-world policy preferences and engaging in good faith bargaining to find real-world policy equilibria across those preferences, but instead is a competitive mass signaling exercise for charismatic symbolists to position themselves for in-group rewards and ceremonial jousts at scale.

The Green Protocol: A New Vision for Crypto, Pt. 2
---
I have a thousand examples of the inexorable spread of the speculation layer, of a gamification of everything through intentionally engineered linguistic triggers of our primate brains, of a gamification that creates and monetizes engagement with crystal meth potency. All in service to the Snake.
So what?
As always we are left with the eternal question of those who are in the world-as-it-is but not of the world-as-it-is.
What do we do about it?
I believe that any top-down, centralized sanction of the modern Snakes of Big Tech, Big Media and Big Politics is likely to be subverted.
I'm all for trying! I'm all for a concerted regulatory effort to break up Alphabet and Meta! I just don't think it's likely to work in a way that would make a difference.
But I think there is another way. A better way.
I believe there is a decentralized, bottom-up way to break the whispering power of the modern Snake.
I believe that the same technology that has allowed the modern Snakes to develop and distribute their triggering narratives at scale can be used against them. I truly believe that.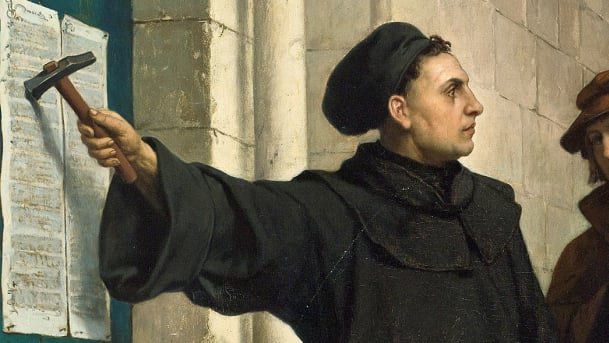 Because all of this has happened before.
---
---
Next, Narrative and Metaverse, Pt. 3: The Luther Protocol
---
PDF download (subscribers only): Narrative and Metaverse, Pt. 2: Gain of Function
---